Brylee is 32 months, Cambria is 19.5 months, and Hayleigh is 7 weeks
This week I finally really focused on working with the girls on some of their tot skills using just basic stuff around the house.
This box holds our chip clips but to be honest, the chip clips are pretty cheap and don't work too well.  However, they are the perfect tool for working on developing Brylee's pincer grasp, the one that will help her hold a pencil correctly.  She loved clipping them all around the box and a bowl, color coordinated of course!  (Mom quick tip: I keep this box in the kitchen for her to work on while I am getting dinner ready.)
I pulled out our baby girl sensory bin I put together before Hayleigh was born.  The girls really enjoyed exploring everything in the bin.  Here, I gave each girl a cup and had them sort their color pom-pom balls into their cups.  A little too easy for Brylee, but she enjoyed helping Cami with hers. 
This baby bottle and these plastic diaper pins (baby shower favors from the Dollar Tree) were in the sensory bin.  Cami took them out and started dropping the pins into the bottle.  She loved hearing them "plink" and it worked on her fine motor, hand-eye coordination skills!  Brylee also enjoyed dropping the pins and I love that she did it by colors (there were two of each color).  This is why I love using sensory bins with the girls… to see what they do and make with all the stuff in the bin!
This activity I set up for Brylee, hoping to work on her one-to-one correspondence counting.  I showed her how to drop each pom-pom into each cup, counting as I did so.  She did it, but skipped "four" every time… counting, "One, two, three, five, six".  I think she does this because of four and five both having the same beginning sound, she thinks of them as one number.  So this is something we will continue to work on.
Brylee LOVES to throw balls around the house.  However, we have had to teach her that she can only use squishy small balls AND make sure that an adult is playing with her.  Here, we practiced her gross motor skils as well as more hand-eye coordination skills while I was nursing Hayleigh.
Here, the girls are practicing their coloring skills on the easel I found at Walmart on clearance for $7 awhile ago.  Coloring this way is a great way to develop some of their upper arm muscles.  We tried out markers, but it was waaaay too messy for me, especially since I was also trying to get dinner ready.  So, we are sticking to crayons for right now, unless Mommy can be close for supervision.
This book about colors is much loved around our house these days.  It comes with a magnifying glass that we use to play I Spy with.  Brylee has so much fun trying to find each object.  Daddy did a great job playing this game with her! 
While Hubby was out of town, we met up with Memaw to walk around the mall.  The playground was way too overcrowded, so the girls played pretend on the cars and trucks instead.  And they had just as much fun! 
We used our Groupon this week to the Pier Aquarium on hubby's day off.  Memaw (hubby's mom) joined us for fun times exploring the fish and consoling Brylee, since she was scared of this pelican!  (I love the picture on the left because it reminds me of how blessed I am to live somewhere so beautiful, even if it is super populated!)
Some more pictures inside the aquarium and some of the surrounding shops.  I love the way Brylee is standing in the alligator picture!  She thought the alligator was super cool, but then wasn't so sure as she was standing next to it. 
We went to the top of the aquarium at the end of the pier.  Heights make me a bit super nervous, so while I loved these pictures of the girls, I made them move away from the bars right afterwards!
After the aquarium, we went out to eat lunch with Memaw.  Cami looked so stinking cute coloring, I couldn't resist taking her picture (multiple times!). 
Our food took an extraordinary long time to make, so we had to get creative with keeping the girls entertained.  Not sure who came up with this idea, but Daddy doesn't look like he is enjoying it too much.  Don't you just love his sparkly bracelet?! 
Not tot school related, but a couple cute pictures of Brylee and Hayleigh. 
To see more tot school activities, head over to…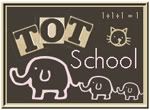 and Link and Learn
Related posts: