Brylee is 33 months, Cambria is 21 months, and Hayleigh is 12 weeks.
This week I was unusually tired.  Hubby only had one day off and I usually "recharge" during that time.  The weather was overcast and rainy every afternoon.  The girls were full of high energy and fiestiness every day.  It was just one of those weeks.  You know what I mean?
So, I pulled out the tent above and hoped the girls would have a new found love.  Can you see their shadows inside the second picture?  So cute. 
Because it was a bit of a tough week, I decided to take a break from our ABC tot school.  Instead, I focused on doing things with the girls that we already had on hand and didn't need any preparation.  Puzzles are a new activity for us these days.  Brylee does an incredible job with the 24 piece ones and sometimes does the same one over and over!  Rather than put a puzzle together, Cami enjoyed transferring the pieces from one container to the next.
Brylee asked to do a lot of cutting this week.  These spring scissors are awesome and make cutting much easier and less frustrating for her!  We also did a lot of munching on cucumbers and CapriSuns for snacks as well. 
I brought out one of the activity boxes I made before Hayleigh was born to keep the girls busy while I nursed.  Even though the girls have explored this box before, they enjoyed playing with it a lot this week.  Cami loved shaking the little I Spy bottle and especially loved the ABC flipbook, testing herself on her vocabulary. 
Cami didn't really like this activity bag last time, but this week she did a great job threading the rollers onto the pipe cleaners.  I think she fashioned herself some dumbbells.  Or maybe they are bracelets.  Not really sure but those little Brylee toes are super cute! 
Brylee worked on connecting the shape links together to make long chains and even a couple pieces of jewelry for herself.  She did need a little help getting some of them together, though.  I sure am glad I made those activity boxes when I had the time!
I'm all about teaching the girls little things they can do around the house to help me out.  Here, Brylee is mastering our hand vacuum.  She did a wonderful job cleaning up small pieces of paper that landed on the floor during her cutting time.
Gosh, I love this little cutie.  Hayleigh is getting so big, I can't even believe it.  She will be three months soon!  Ah, where does the time go?!  Hubby thought she could try out the Bumbo and work on some of her sitting up skills.  However, I don't think she is quite ready.  She did well for a few minutes but then slowly started drooping over and getting fussy.  Told you so, Daddy. 
Our little mini break was much needed and now I feel energized and ready to continue on with our ABC tot school.  This coming week we will be working on the Letter E.  Elephants and Eggs.  So excited!
To see more tot school activities, head over to…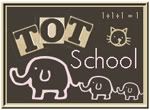 Show & Share Saturday at I Can Teach My Child
and
Link and Learn at No Time For Flashcards!