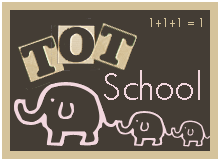 Cambria is almost 17.5 months & Brylee is almost 30 months
This past week was spent majorly nesting for me!  I wanted to be ready for Hayleigh by Easter because I am pretty sure she is coming early.  Well, I did manage to get a lot marked off my list that I wanted done.  So exciting!
The girls were awesome all week and helped me out a lot around the house.  Our tot school was definitely less structured this week but the girls still did a lot of learning and had fun.  Here's what we did…
We found these awesome fish at Ross while searching for last minute things for the hospital bag.  They were $6 and are totally fantastic!  They will lend themselves well to so many learning activities – fine motor for connecting and lacing, teaching patterns, discussing different textures, and lots of counting activities!  A great find!!!  (These kept the girls entertained while at the hospital visiting hubby's grandmother.)
I just adore this picture of Brylee in her cowboy boots, concentrating so hard on lacing.  I still can't believe we got these fish for $6 at Ross, when they retail at almost $30 online!  Ross, T.J. Maxx and Marshalls are GREAT places for finding GREAT deals on learning toys for your children.  Just a tip from one mom to another. 
I found this foam clock while searching through the new Dollar Tree by my house.  Brylee ripped it open as soon as I got home and went at it.  I was really surprised how well she put all the numbers back into their spots.  I knew she was good at puzzles but she is really fantastic at putting things back together!
Brylee wanted to play with her ABC Letter B sensory bin from last week since Cami was down for a morning nap.  She absolutely loves this thing. (Go here to see the purpose of sensory bins.)  But she did get a bit crazy so we had to put it away.  Before I even said anything, she went to grab her brush and dust pain to clean up all the little ABC pasta all over the table.  Love it! 
My mom came over one day to help out with my nesting urges.  But I decided to let her do some Easter crafts with the girls.  They made these cute foam lambs and decorated foam crosses.  I got these for next to nothing last year at JoAnn's after Easter.
Hubby also discussed the story of Christ and what he did for us on the cross using Resurrection Eggs
someone had given us.  Brylee loved these and asked for Daddy to do it every day. 
We also watched two great Easter Veggie Tales movies on our Netflix, Twas the Night Before Easter
and An Easter Carol
.  Who else loves Netflix?!!
We decorate our eggs on Easter.  It's too much work for me to do it by myself with the girls.  Plus, my family really enjoys doing it with them.  I think we are going to try to these Melted Crayon Eggs over at Family Fun.  It looks like all you do is simply color the eggs with crayons right after boiling them.  Then when the eggs dry, they have this really cool look.
Hope you all had a great week with your little tots as well!  To see more great Tot School activites, check out 1+1+1=1.