We have been a bit out of our normal routine.  Mainly because I have been out of it!  Just been in a funk I guess.  We did cover letters G and H the past few weeks but don't have many pictures to show for it.  Here are the highlights, along with some other fun favorites. 
Brylee is 34.5 months, Cambria is 22 months, and Hayleigh is 4 months
Working on our Songs for Saplings "G" verse.  I laminated and cut up each word and had Brylee put the verse in order.  With help, of course. 
Oh, the attitude on this one is incredible.  Sigh.  I cannot wait until she becomes a teenager.  Apparently she isn't a fan of having her picture taken sometimes.  Here we sorted uppercase and lowercase G's, a printable from Confessions of a Homeschooler.
We also made these googly goggles and went on a letter G scavenger hunt. 
Then we moved onto the letter H, working on letter recognition, letter sound and words beginning with the letter H.  Brylee is getting really good at this!  And Cami likes to walk around saying the sounds and names of random letters. 
  I really do love "teaching" two at the same time!  The girls are coloring one of 1+1+1=1′s Tot School printables.
Dot painting uppercase and lowercase H, printable from Confessions of a Homeschooler.  The girls both looove using their dot markers!
Brylee practicing her tracing and writing skills with her Crayola Dry Erase Activity Center we got for $0.50 at a garage sale!  The H printable is from Confessions of a Homeschooler.  I just printed it out on regular paper and put into the activity center, which then "made" it so she could use a dry erase marker on it!  Brylee could use this thing all day long if I let her.
The girls loved gluing their hippos together!  I cut them out prior to this and then showed the girls the picture of how the hippo was supposed to go. Then they had to glue and put it together the right way.  Brylee did an awesome job and Cami's turned out pretty funky but cute. 
I creatively came up with this one myself, which explains the goofiness of it!  We made Hairy Headbands with some construction paper and yarn.  The girls found gluing the yarn pieces on a bit tedious, so our headbands turned out less hairy than expected.  ;)
The girls have thoroughly been enjoying our thrifty treasures while out garage saling lately!  Here we celebrated Labor Day with some outside play with our $5 sandbox and $2 water sprinkler.
And here is how most of our days are filled.  The girls doing lots of pretend play with their surplus of toys!  I found Cami attempting to change her dog's diaper, even though he was without one.  So cute this little one!
Pinterest is a new found, addicting love for me.  While I could pin away forever, I am forcing myself to try to actually do some of the things I pin!  Here we made some peanut butter and jelly "sushi" rolls, although not as pretty and good looking as the original.  But the girls gobbled them up all the same!
And this little one has been busy growing and getting big!  I looove interacting with her.   She is all giggles and smiles!
This past week we tried out some rice cereal since she is about 4.5 months now.  I don't think she enjoys it as much as mommy's milk but I think it's growing on her. 
To see more tot school activities, head over to…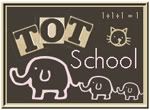 Show & Share Saturday at I Can Teach My Child
and
Link and Learn at No Time For Flashcards!
Related posts: